Christmas is the most magical time of the year for me but it's also the busiest most indulgent period in my winter calendar! Whether you are jetting off on a ski holiday with your partner, travelling a long way home to visit family or visiting town frequently for a few festive beverages, December is always full of temptations and celebrations but can easily make a frequent gym bunny fall off track.
Some of you might be wondering so how on earth do I stay fit over the festive period? – this time of year might be giving you a little anxiety or it might a be a huge sign of relief for you that you can FINALLY have some downtime to yourself. It's also important to remember that being fit isn't just about the number of miles that you run or the weights that you can lift!
Over the next 12 days I am going to share my top tips for how YOU can stay fit over the festive period.
Day 1 – Less is More
Set aside at least 15 minutes of training everyday – yoga, a family Christmas walk, a speedy HIIT session, anything to get your heart beating and your metabolism pumping. Even getting up half an hour earlier can give you some valued time for some much-needed meditation to allow you to really focus on your body functionality, digestion and time to take in some oxygen.
Day 2 – Exercise Together
Find a friend who will support you and never let you down when its wet, cold and windy outside! Make a shared calendar and you will stay accountable for exercising together, you could even have a competition over the festive period to see who exercises more
Day 3 – Keep Hydrated
Don't forget to drink lots of water in the day and on a night out too, drinking plenty of water helps maintain your balance of bodily fluids. Your body is composed of about 60% water. The functions of these bodily fluids include digestion, absorption, circulation, creation of saliva, transportation of nutrients, and maintenance of body temperature. The more you can drink water the quicker you can digest and keep yourself healthy.
Day 4 – Christmas games
Why not challenge your friends and family to a Christmas 'plank-off' and set a personal Christmas goal such as by Christmas day I will be able to hold a three-minute plank – sound too easy? Try four minutes and you'll be burning!
Day 5 – Portion Control
If your goal is to stay fit and healthy through the festive season then small changes go a long way. Never go back for seconds, no matter how tasty the buffet is. Eat slowly and enjoy every mouthful. It's easier not to over eat when you're mindful. If you can choose your food, don't deny yourself anything but allow the proportions of healthy food to be bigger than the unhealthy options.
Day 6 – Drink with moderation
Lets face it, we all love a little glass of bubbles once in a while! Christmas is definitely a time to celebrate and why not have a glass of bubbles to mark the occasion. Remember alcohol is very calorific so if you are planning on having a drink, only have a few and by a few I don't mean a few bottles!!
Day 7 – Eat less and more often
Over the festive period I tend to wake up a little later so I tend to eat little and often, to be honest I am always eating!! You should try to distribute your meals evenly throughout the day don't over indulge all at once! If you try to have five small meals instead of two huge meals your body can process your food a lot more easily and you tend not to feel bloated and like you have over indulged!
Day 8 – Enjoy Yourself!
Make sure you set yourself realistic goals and don't be too harsh on yourself! Sometimes its good to give your body a rest and to enjoy the treats that you really love, spend time with your family and friends.
Day 9 – Get out of the House
Invite all of your family and friends to do an outdoor activity! We love to get together and go for a walk and some lunch, I love feeling the fresh air in my lungs and enjoying the beautiful countryside. Whether you live by the beach, in the country or in a city, get out and enjoy your surroundings!!
Day 10 – Make time to sleep
During the party season, don't neglect your sleep and down time. Getting an early night can help you to lose weight and lower your body mass index (BMI) as well as making sure that you have enough much needed energy to catch up with family and friends!
Our Size Guides
Sports Bra Size Guide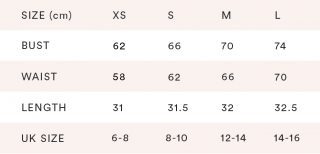 ---
Leggings Size Guide