When you're working out and eating well sometimes you can feel a little lull in your life and you feel the need to indulge and binge to keep you happy. For me this was always in form of a huge bag of chocolates and sweeties (hence the name). After years of struggling with my gut and having chronic IBS I began to understand my body and learn how to eat effectively so that my body was able to absorb all of the nutrients that it needed. I began to foster a love of fitness and partnering with a healthy diet I started to see the results that following an effective programme and eating well could bring.
For those of you who have been following me on Instagram for a few years (I can't believe that it's been years myself!) you will know that I am a huge fan of all things active, tasty and wearing beautiful activewear is definitely one of my favourite things to do. I love a challenge, may that be in the gym (I STILL can't do a pull up) or in my work, so I decided that I would create my own activewear collection that would really enhance all of your beautiful assets that God gave you.
I have sourced the finest fabrics to optimise breathability when you are working out, or relaxing at home and if I do say so myself, the activewear feels so amazing on your body! I am so excited to share with you our Core Collection which includes our leggings and sports bras. I have designed my leggings to enhance all of your curves, whilst being fully squat proof (I see far too many see through leggings in my gym!!) and they feature a little pocket at the back of the leggings for your bobbles, grips and locker keys. The sports bras are so beautiful too, they are super soft, have removable modesty cups and have a layer of mesh to keep you looking so chic in the gym.
The collection is very limited; get your hands on it whilst you can for you and your girls this winter!
Our Size Guides
Sports Bra Size Guide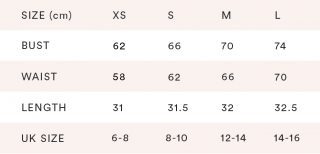 ---
Leggings Size Guide